This is a six card reading with full scan and description of cards used along with their meanings with any information I pick up psychically. The reading will be approximately 1300 words and be with you within five working days. Please specify what you would like the reading on. (Please note that email readings can be delayed if Nick is out of the country or on tour).
During the reading Nick uses two decks of cards with 5 cards from  an oracle deck, the first deck laid out in the form of a cross where each card position has a meaning along with the meaning of the card and one card from the second  power animal deck, which is the power card giving an overall message. In some cases more cards can or will be used depending on the information or whether extra cards fall from the deck during the shuffling process.
Card positions: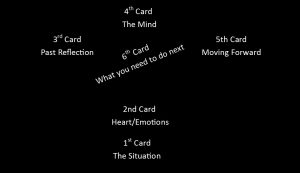 Price(GBP): £30.00
Once payment has been made, you will receive an email of confirmation and another to let you know that work has begun on your reading.